Okay, ya, I'm far far away from where you Maltese people live.
This is where I live:
Don't notice it?
Well, it's Cape Town. I'm from South Africa.
Um, I cannot speak any other languages besides English and a bit of Afrikaans, which is like Dutch and German.
Uh...
My name is Chelsea?
lol, ya.
Um, this is me: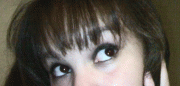 Just half my face xD
I've been a Tokio Hotel fan since 2005, believe it or not.
I never saw them when they were in Cape Town filming Monsoon, and I'm so fucked because of that. It's horrible.
Um... what else about me???
I have a lovely accent! It's similar to the English one... so... ya...
Um... I love my cell phone and computer more than anything in the world.
....
Oh! I am registered on Tokio Hotel Fiction. If you want to.
Ya...
That's me...
Hi!
xxchelseao0xx =D